On Friday, November 13th, we hosted the Virtual Catapult Institute Workshop: Social Entrepreneurship 101- How Nonprofit Organizations Use Entrepreneurial Thinking to Solve Social Problems.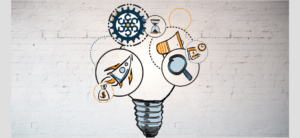 The workshop was led by Dr. Jeffrey Robinson, Academic Director, Rutgers Center for Urban Entrepreneurship & Economic Development. Dr Robinson is an award winning business school professor, international speaker and entrepreneur.
For access to all workshop resources, please click here: Social Entrepreneurship 101 Resources
The workshop started with an explanation of social entrepreneurship. We learned how non-profit and social-purpose organizations can use an entrepreneurial mindset when approaching the complexities of social issues.
Participants were assigned pre-work including watching videos of six different social enterprises which were then discussed in breakout rooms, with observations reported to and discussed with the full group.
We explored the benefits and applications of entrepreneurial thinking for nonprofit leaders to create innovative social enterprises and social ventures that make sustainable social impact.
We also discussed entrepreneurial approaches to addressing social issues, the pillars and principles of social entrepreneurship, and the considerations and questions to ask before pursuing entrepreneurial strategies.